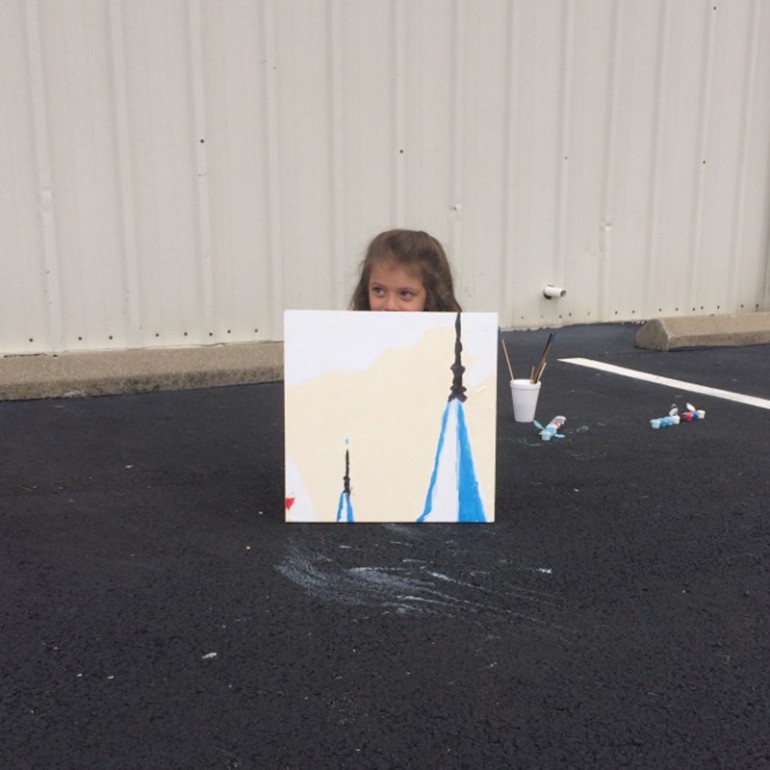 Let's go on a horse race! Final day of summer camp and the 50+ YMCA campers from Kentucky, ages 4 – 14, were ready for their sprint to the finish line. The project chosen for the last day would be a healthy art challenge. It was the campers' chance to inspire with a paint by number masterpiece of the 2015 Kentucky Derby champion, the history-making thoroughbred and 12th Triple Crown winner.
The pressure was on. All we needed was team spirit on our side, and with all those eager faces staring back at us, there wasn't a doubt that we had that part covered. The project was real simple — in a big way. We enlarged and divided the Kentucky Derby brand licensed kit into 9 canvas pieces, then mounted the canvas onto 16″ x 16″ individual oak floating frame panels. Once painted, the gestalt would make one giant 4-ft x 4-ft Kentucky Derby Champion. That was the theory anyway. And, the theory worked magically on a previous 4-panel project so why not attempt 9 panels of the newly crowned American Pharoah with 50 children on the last day of summer camp? Our thought was, 'Why, yes. Let's give this a try!'
The campers found their post, brushes poised, and…..they're off!
An hour flew by, then brushes were down. Amazing, those YMCA campers, sprinting to finish the lines like champions. A fabulous finish to summer camp with the fantastic American Pharoah!
***A very special thank you to the Oldham County YMCA in Buckner, Kentucky and the wonderful summer camp staff for allowing Easy123Art to participate in their program.***
For more information regarding customizable paint by number kits for school & camp projects/fundraisers/community & corporate events/weddings & reunions, please email us at Contact@Easy123Art.com.